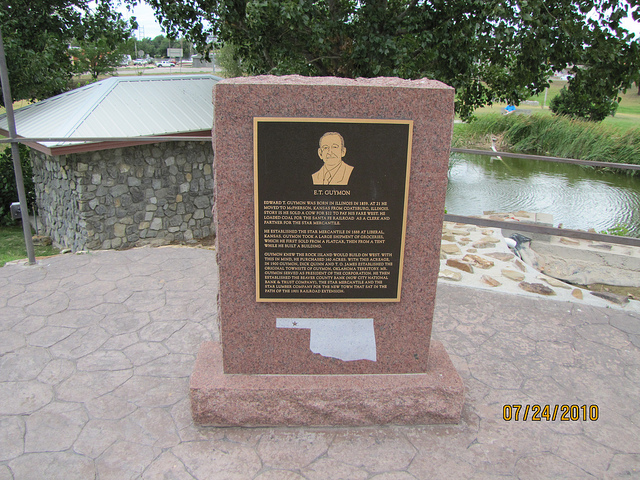 E.T. Guymon
Edward T. Guymon was born in Illinois in 1859. At 21 he moved to McPherson, Kansas from Coatsburg Illinois. Story is he sold a cow for $22 to pay his fare west. He loaded coal for the Santa Fe railroad as a clerk and partner for the Star Mercantile.

He established the Star Mercantile in 1888 at Liberal, Kansas. Guymon took a large shipment of groceries, which he first sold from a flatcar, then from a tent while he built a building.

Guymon knew the Rock Island would build on west. With this in mind, he purchased 160 acres. With this acreage, in 1900 Guymon, Dick Quinn and T.O. James established the original townsite of Guymon, Oklahoma Territory. Mr. Guymon served as president of the corporation. He them established the Beaver County Bank (now City National Bank & Trust Company), the Star Mercantile and the Star Lumber Company for the new town that sat in the parth of the 1901 railroad extension.
Directions
E.T. Guymon Centennial Park, US 412 and US 54, Guymon, Oklahoma
Regions
Maps