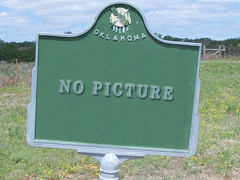 The Cherokee Advocate
As a tribute to Oklahoma's first legal newspaper, The Cherokee Advocate, was established in 1844 in a building approximately 100' from the location (of this maker.)

The marker was dedicated September 6, 1957 by the Oklahoma Press Association and the Oklahoma Professional Chapter of Sigma Delta Chi.
Directions
South Muskogee St. on Cherokee Nation Courthouse square in Tahlequah, Oklahoma. It's a small marker.
Regions
Maps