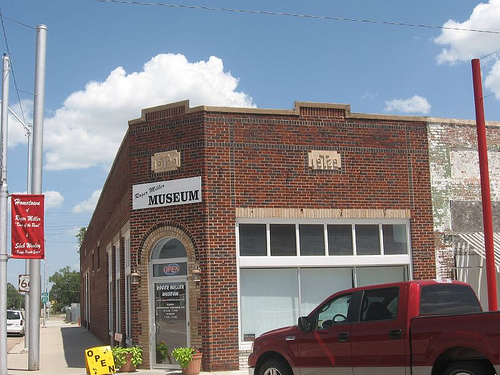 Roger Miller Museum
The objective of the ROGER MILLER MUSEUM is to collect, preserve, and exhibit memorabilia and artifacts celebrating the life and accomplishments of Roger Miller. The museum, including its exhibits, publications and website center, is available to the general public to promote good will, cultural tourism and music appreciation, not only in the City of Erick and State of Oklahoma, but also across the United States and abroad.
Directions
Corner of Sheb Wooley Ave & Roger Miller Blvd, Erick, Oklahoma. I-40 Exit 7.
Regions
Maps
Hours:
Open: Wed.- Sat. 10:00 am to 5:00 pm & Sundays 1-5 pm. For special appointments or tour group arrangements call.
Links:
Wikipedia:
Roger Dean Miller (January 2, 1936 – October 25, 1992) was an American singer, songwriter and musician, best known for his mid-1960s country/pop hits such as "King of the Road", "Dang Me," and "England Swings." He also wrote the music and lyrics for the Tony-award winning Broadway musical Big River (1985).

Roger Miller, the youngest of three boys, was born in Fort Worth, Texas, to Laudene Holt Miller (mother) and father Jean Miller. Jean died when Roger was only a year old, and he was subsequently sent to live with his aunt and uncle, Elmer and Armelia Miller, in Erick, Oklahoma.

Miller had a lonely and unhappy childhood. Heavily influenced by the Grand Ole Opry on Saturday nights and the Light Crust Doughboys on Fort Worth radio, he desperately wanted to be a singer-songwriter.[citation needed] When he was seventeen, he stole a guitar, but turned himself in and chose to join the Army rather than go to jail. He later quipped, "My education was Korea, Clash of '52." Upon leaving the Army, he went to Nashville to work on his music career. In 1959 he wrote his first number-one song, "Billy Bayou" recorded by Jim Reeves.

Although usually grouped with country music singers, Miller's unique style defies easy classification. He had a string of pop hits in the 1960s, and also his own TV show in 1966. Many of his recordings were humorous novelty songs with whimsical lyrics, coupled with scat singing or vocalese riffs filled with nonsense syllables. Others were sincere ballads, which also caught the public's fancy, none more so than his signature song, "King of the Road", a major 1965 hit, about a presumed hobo who relishes his life and freedom, riding the rails. He also had a big single in this year with the #8 hit "England Swings".

In the 1970s, Miller appeared in ads for Monroe shock absorbers, backed by a re-recording of "King of the Road".

Miller wrote and performed three songs in the 1973 animated Robin Hood film as the rooster/minstrel Alan-a-Dale. One of these, a high-pitched sample of "Whistle Stop", was later used as the musical accompaniment for the Internet phenomenon "Hampsterdance".

Miller was married to Mary Arnold, who herself was a musician, a member of Kenny Rogers' backing band, Kenny Rogers and The First Edition. Band leader Kenny Rogers introduced the two. Arnold now manages Miller's estate. He is related to the Burton family.

His eldest son, Dean Miller, is a singer-songwriter in his own right. Roger's Christmas song, "Old Toy Trains" was written about his son, who was only two years old when the song came out in 1967.

Miller provided the voice of Speiltoe, the equine narrator of the Rankin/Bass holiday special Nestor, The Long-Eared Christmas Donkey (1977).

A lifelong cigarette smoker, Miller died of lung and throat cancer in 1992. In a TV interview, he once explained that he composed his songs from "bits and pieces" of ideas he wrote on scraps of paper. When asked what he did with the unused bits and pieces, he half-joked, "I smoke 'em!"[cite this quote] One of his songs, "A Man Can't Quit", centered on the subject of addiction to cigarettes.

In addition to 11 Grammy Awards, Roger Miller won Broadway's Tony award for writing the music and lyrics for Big River, which won a total of 7 Tonys including best musical in 1985.

He was voted into the Nashville Songwriters Hall of Fame in 1973 and the Country Music Hall of Fame in 1995. In Erick, Oklahoma where he grew up, a thoroughfare was renamed "Roger Miller Boulevard."

The chorus of one of his songs, "England Swings", was used for the 1998 BBC radio program, 15 Minutes of Misery. The song was also featured in the 2003 movie Shanghai Knights.

In his 1997 autobiography Johnny Cash compared Miller's bass vocal range favorably with his own, saying it was the closest to his own that he had heard.

Miller ranked #23 in CMT's 40 Greatest Men in Country Music in 2003.

In the 2007 film Into The Wild, "King Of The Road" can be heard, and is also mentioned in a letter from the main character.