Canadian County Sheriff Stables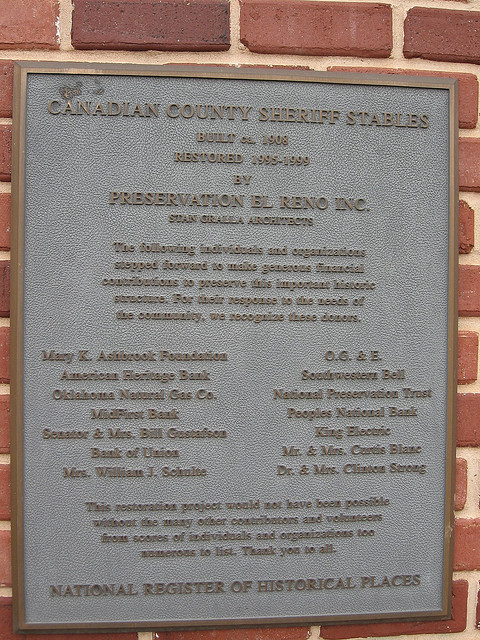 Canadian County Sheriff Stables
Canadian County Sheriff Stables
Built ca. 1908,BR. Restored 1995 - 1999
By
Preservation El Reno Inc.
Stan Gralla Architects

The following individuals and organizations stepped forward to mark generous financial contributions to preserve this important historic structure. for their response to the needs of the community, we recognize these donors. Mary K. Ashbrook Foundation, American Heritage Bank, Oklahoma Natural Gas Co., MidFirst Bank, Senator & Mrs. Bill Gastafson, Bank of Union, Mrs. William J Schulte, O.G. & E. ,Southwestern Bell, National Preservation Trust, Peoples National Bank, King Electric, Mr. & Mrs Curtis Blanc, Dr.& Mrs. Clinton Strong.

This restoration project would not have been possible without the many other contributors and volunteers from scores of individuals and organizations too numerous to list. Thank you to all

National Register of Historical Places.
Directions
Evans and Rogers St. El Reno, OK
Regions
Maps