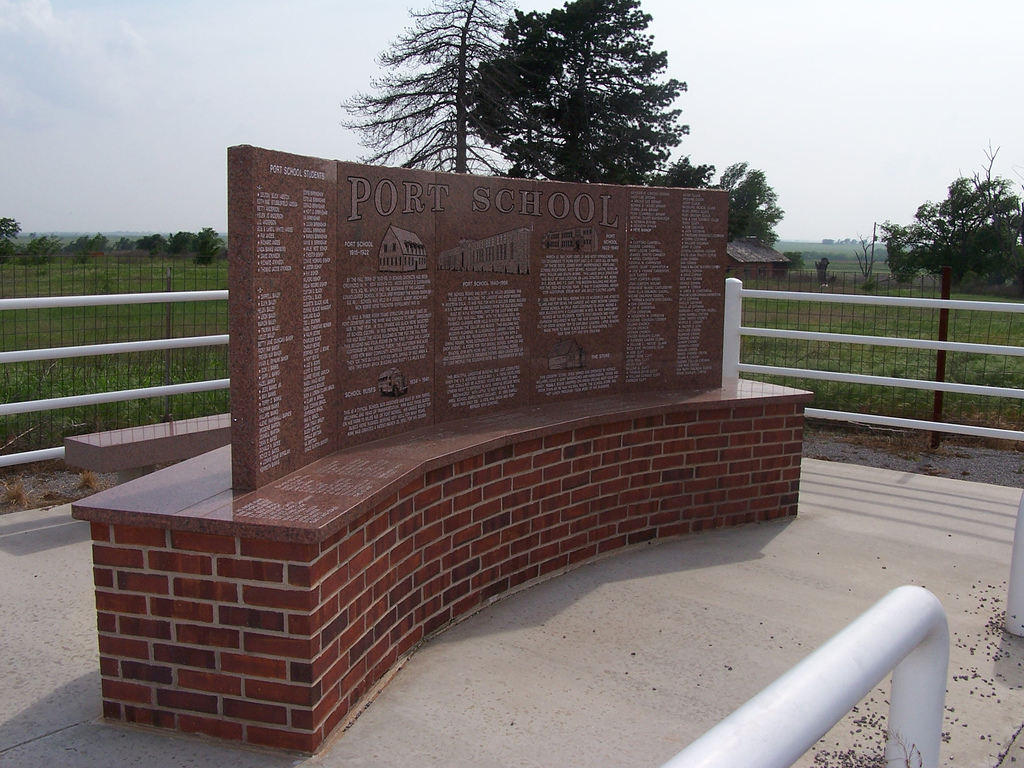 Port School
Port School 1915 - 1922
By the fall term of 1892-93, 31 school districts had been organize in "H," now Washita Co. Wood district 3, containing 10.25 sq. mi., which was the beginning of the largest consolidated school in Okla. and possibly the nation (over 88 sq. mi.). School was held in a dugout. Albert Peachy and Nick Bowie teachers. Enrollment was 25.
In 1902, a three room frame structure was built east of Port cemetery and the name was change to Port. Enrollment was 75 that year. In 1913, orange and black where selected as school colors. In 1915, patrons tore down that building and built at the above building in time for the fall term. This building had four rooms on the first floor and a large auditorium on the second floor. The auditorium was also used for many community activities. Enrollment was then 125. This building served until spring of 1922 when a new two story brick building was built 1 1/2 miles east.
Port School 1922 - 1940
March 12, 1921, Port (dist. 3) and West Springcreek (32) disbanded to form Port dist C-5. Later all of parts of these dists. joined Port: Independence, Portland, Combs, Rockfront, West Bethel, Pleasent Grove, Herdlaw, Pink, Taylor and South Burns. This large brick structure was built and this location on land donated by M.E. Bowie, M.D. Bowie, and T.C. Duff. This modern building was ready for the 1922-23 school year. It had 11 classrooms, indoor gym/auditorium, steam heat and Delco electric lights.
By 1926, Port was well known for its academic and athletic teams for being the largest and most modern consolidated school in Okla. Port continued to grow, adding a new building with 4 classrooms in 1929. In 1931, enrollment peaked at 758 students. Port's first reunion and first yearbook occurred in 1927. The 1939 seniors took the first out-of-state senior trip to Carlsbad Caverns. Later seniors made trips to many places such as Washington D.C., New York City and New Orleans.
Port School 1940 - 1966
The school board and Supt. J.M. Welch designed this 74,520 sq. ft. building, the largest and most modern western Okla. It was paid for with a $23,000 bond, $52,000 W.P.A. Grant and $15,000 salvaged from the old buildings. Built by W.P.A. workers, part of the east wing was ready for the 1940 fall term. With building still unfinished, classes where held in every available space including the cellar and buses. This building had modern plumbing, 19 classrooms, library, visual aid room, FFA and wood shop rooms, a store for text books, school supplies and snacks, gym with home and visitor dressing rooms, and auditorium with 2 dressing rooms. Each could seat up to 1,000 people the students were all transported by bus.
This beautiful limestone building was just completed when the U.S. entered World War II. A trend developed that could not be altered. Young men went to war, others went to defense plants, farming became more mechanized. With little to keep people in the area, school enrollment declined. By 1966 enrollment was only 129. A vote was take and Port merged with Sentinel.
The Store
This country store, once owned and operated by Horace Williams, sold 5 cent sandwiches and hamburgers, sodas and candy. Ross T. Bowie dropped off fresh ground beef each day from town as he ran his mail route. The school store and "Hot Lunch Program" took most of his business.
School Buses 1934 - 1941
This is a typical school bus designed and build by Kirk Farris, mechanic and head of transportation. Kirk built these buses on his farm 10 miles N.E. of Port school. His unique round top buses where rugged, serving very well for many years. Kirk was granted a patent March 22, 1938, for his design.
Directions
5 miles west on E1250 Rd from OK Hwy 44. Turn is 5 1/2 miles south from intersection of OK Hwy 44 and OK Hwy 152, or 3 miles north from Sentinel, Oklahoma on OK Hwy 44.
Regions
Maps