Reno City, Oklahoma Territory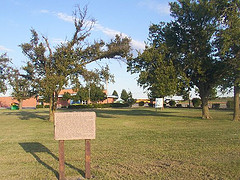 Reno City, Oklahoma Territory
Reno City, O.T. Reno City was founded on the day of the first run April 22, 1889. Having been platted beforehand. It was situated just east of the boundary line the ninety eighth meridian and 3 miles east of the C and A Indian Agency at Darling, O.T. The town flourished at first with several stores, saloons , undertaking parlor, school, churches, several newspapers,professional people and numerous residences. The early population was estimated at 1500. Two railroads staked lines through Reno City, but the Rock Island, instead built west through the C and A lands reportedly because Reno City refused to pay the bonus. Then the Choctaw,Okla & Gulf built on the south side of the river sounding the death knell of the city although the post office established June 15.1889 lasted through 1902. By this time most of the building and residents had moved to El Reno. Only the original school still stands just north of this spot now a residence. This maker was erected by the Canadian County Historical Society, with funds given in memory of Frank C Bael. The society's vice president.
Directions
El Reno, Ok: About 2 miles north city limit cross bridge on Highway 81 marker is on east side of road in front of the Darlington School.
Regions
Maps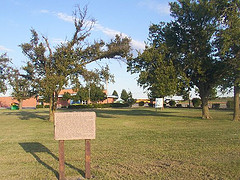 Note: Several years ago there was a different marker at this site. The marker was for Darlington. When I went to look for the historical marker it had been removed, maybe when the road was reconstructed. In its place is now the Reno City Marker.