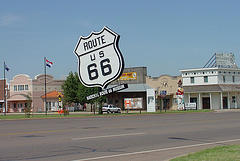 National Route 66 Museum
The National Route 66 Museum uses a road motif to allow visitors to travel through all eight states along Route 66 "The Mother Road". The trip begins in Chicago and ends in California. Murals and different vignettes depict the eras of the road and the interesting places that made Route 66 so famous. As you travel along, you can listen to recorded histories and personal accounts of the road from overhead audio kiosks.
Directions
2717 W Third, Elk City, Oklahoma. Eastbound take I-40 Exit #32 and travel 5 miles along Old Highway 66. Westbound take I-40 Exit #41 and travel 4.8 miles on Old Highway 66. The museum is located on the north side of the road.
Regions
Maps
35.41204967272494, -99.43698583073578