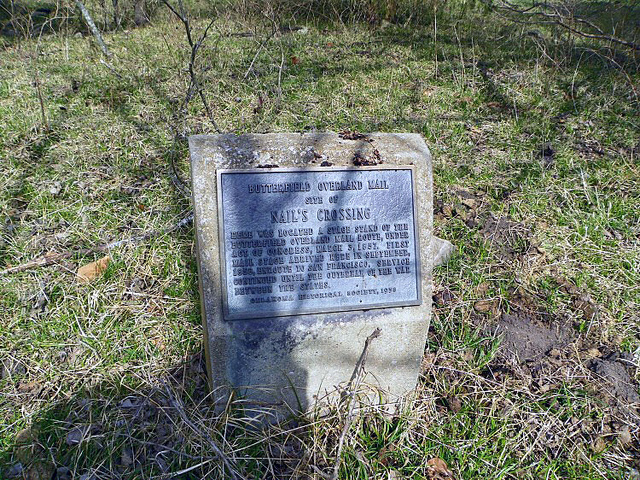 Nail's Crossing
Butterfield Overland Mail site of Nail's Crossing. Here was located a stage stand of the Butterfield Overland Mail route, under act of Congress, March 3, 1857. First mail service arrived here in September 1858, enroute to San Francisco, service continued until the outbreak of the War Between the States. Oklahoma Historical Society 1958.
Directions
2 mi. SW of Kenefick, Oklahoma. Marker can be reached from Nails Crossing Road, on the right when traveling west. Located well off the road behind Nails Cemetery.*
Regions
Maps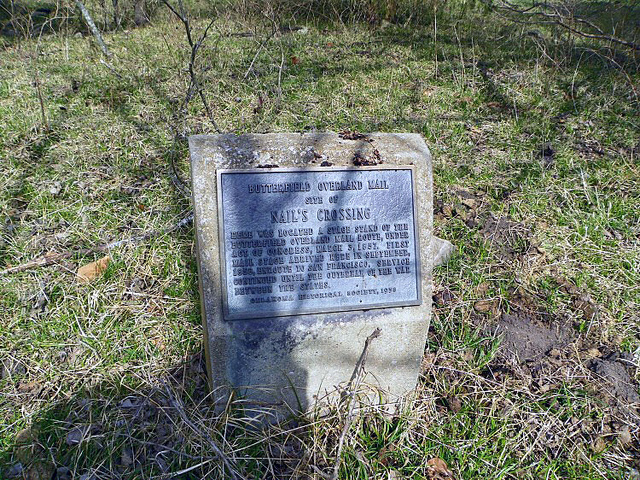 More Pictures
Image Source: http://www.civilwaralbum.com/indian/nail1.htm
Wikipedia: Nail's Station
Nail's Station was a stage stand on the old Butterfield Overland Mail route and the Texas Road in Indian Territory. Sometimes called Blue River Station or Nail's Crossing, it was located on the east side of Blue River in what is now Bryan County, Oklahoma. It was operated by Joel H. Nail, a member of a prominent Choctaw family.

Nail's Station was added to the National Register of Historic Places (#72001059) in 1972.
National Register of Historic Places
Nail's Station ** (added 1972 - Site - #72001059)
Also known as Nail's Crossing on Blue River
2 mi. SW of Kenefick, Keneflick

Historic Significance: Event
Area of Significance: Transportation, Commerce
Period of Significance: 1850-1874
Owner: Private
Historic Function: Transportation
Historic Sub-function: Road-Related
Current Function: Agriculture/Subsistence
Current Sub-function: Agricultural Fields
* Description from National Register Properties in Oklahoma, Directions from National Register of Historic Places. GPS from other source, hmdb.org.