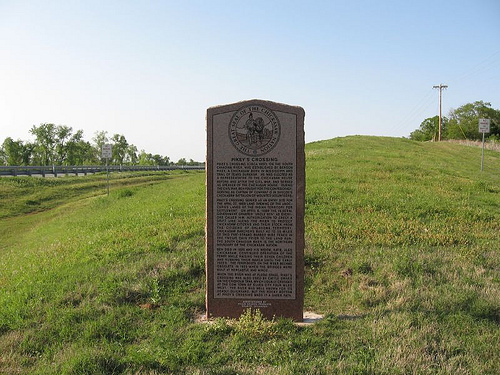 Pikey's Crossing
Logo:

The Great Seal Of The Chickasaw Nation.

Pikey's Crossing

Pikey's Crossing (circa 1867), on the south Canadian River, was established by Benson Pikey. A Chickasaw born in Mississippi and Trail of Tears survivor. He was elected as a Representative to the Chickasaw House before and after the Civil War, and served as Speaker of the Chickasaw House. During the Civil War, Ben fought for the Confederacy serving as Captain of Company G in Shecoe's Chickasaw Battalion of Mounted Volunteers.

Pikey's Crossing served as an entry site for the April 22, 1889 land opening of the unoccupied lands of the Indian Territory for settlement. On April 6, 1889 the Federal Government granted " Uncle Ben" as everyone call him, authorization to erect a drift line along the river to protect Chickasaw citizens and their stock from the citizens of Oklahoma Territory. Chickasaw ranchers built 40 to 50 miles Of this five-stand barbed wire fence in the twelve days prior to the Land Run. The South Canadian River is the northern boundary of the Chickasaw Nation.

Ben died in 1895 and his widow, Katie, also Chickasaw, continued operation of the ferry while raising their seven children and running their ranch until the early 1920's. The ferryboat on the river became obsolete in 1923 when the bridges were built at Newcastle and Minco.

When the river was at flood stage, Pikey's Crossing was also used by cattle drives on the Chisholm Trail which usually crossed at the cow town of Silver City four miles west. The river was well known for its deadly quicksand, but the rocky bottom at Pikey's Crossing made it a safer path.

Manufactured by
Willis Granite Products
Granite, Oklahoma.

Directions
From Mustang, OK at the intersection of Mustang road and OK 152/OK 4 turn left go .08 mile to light,turn on OK 4 south go 5 miles across the South Canadian River, After you cross the river going south take the next left turn on Highway OK 4 make a U turn and head back North the marker is on the right side just before you cross the river again. There is a turn out for the marker. Watch closely or you might miss the marker.