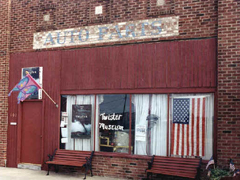 Twister Museum
The Twister Museum is a fascinating glimpse into the film-making art, and the extent to which the crew must go to insure the greatest possible effect.
Directions
101 W. Main, Wakita, Oklahoma 73771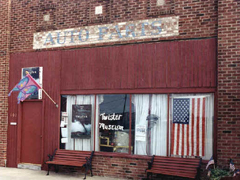 Notes
Scenes from the 1996 movie Twister was filmed in Wakita, Oklahoma.
Museum:
Free Admission, Handicap Accessible
Days/Hours Open: Apr-Oct 1-5pm, or by appointment.
Links:
IMDB: Twister (1996)

TV weatherman Bill Harding is trying to get his tornado-hunter wife, Jo, to sign divorce papers so he can marry his girlfriend Melissa. But Mother Nature, in the form of a series of intense storms sweeping across Oklahoma, has other plans. Soon the three have joined the team of stormchasers as they attempt to insert a revolutionary measuring device into the very heart of several extremely violent tornados.
* Image from Twister Museum web site