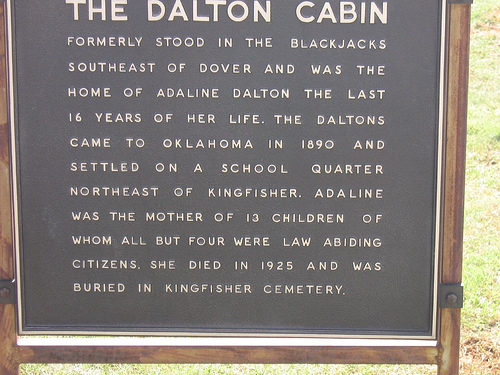 The Dalton Cabin
The Dalton Cabin

Formerly stood in the blackjacks southeast of Dover and was the home of Adaline Dalton the last 16 years of her life. The Daltons came to Oklahoma in 1890 and settled on a school quarter northeast of Kingfisher. Adaline was the mother of 13 children of whom all but four were law abiding citizens. She died in 1925 and was buried in Kingfisher Cemetery.

The Dalton cabin is now located at the Chisholm Trail Museum in Kingfisher.
In the second photo the cabin is the gray building on the right.
Directions
Chisholm Trail Museum, 605 Zellers Avenue, Kingfisher, OK 73750-4228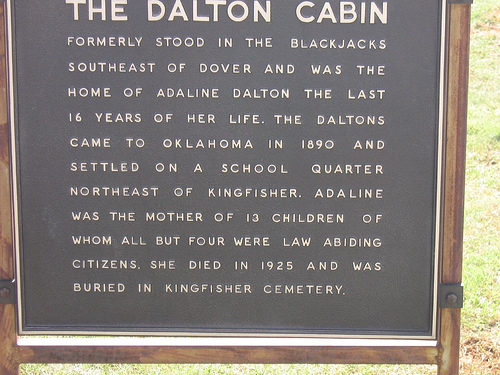 Notes
Adeline Dalton was the mother of Bob, Bill,Grat and Emmett Dalton. They were called the "Dalton Gang" famous outlaw gang in Oklahoma and Kansas
With the opening of the Oklahoma Territory in 1889, Lewis and Adeline Dalton made the run like so many others into the new land settling near Kingfisher, O.T. Charles, Littleton and Henry also made claims near Kingfisher to be near their father. There were 15 children in the Dalton family and only Bob, Bill, Grat and Emmett turned to a life of crime. Their siblings were solid, productive citizens in Oklahoma Territory.
Note:
Adeline was a Younger, the aunt of Cole, Bob and Jim Younger and a cousin of Frank and Jesse James. The Dalton boys grew up listening to stories of their famous or infamous relatives.
Links:
www.pasorobles-usa.com/daltons.htm
www.redcarpetcountry.com/county-kingfisher.htm
en.wikipedia.org/wiki/Dalton_Gang
www.rootsweb.com/~okmurray/stories/dalton.htm