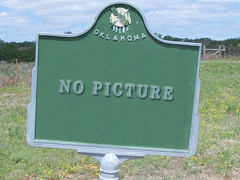 Run of '89-E. Boundary
Run of '89 East Boundary

At the opening of old Oklahoma April 22, 1889, this was the east line for the Run starting at 12 o'clock noon. Prairies and hills in the 2,000,000 acre tract west were people by tens of thousands. Homes were planted and tent cities sprang up before nightfall.

Oklahoma Historical Society.
Directions
4 1/2 miles east of Arcadia, OK on Old Route 66.