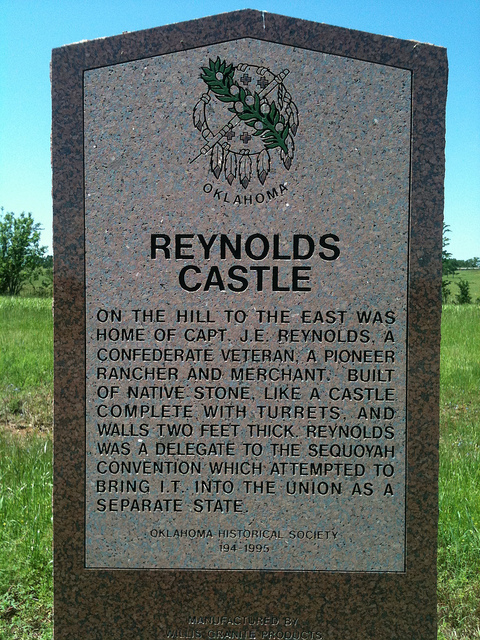 Reynolds Castle
On the hill to east was home of Capt J.E. Reynolds, a confederate veteran, a pioneer rancher and merchant. Built of native stone like a castle complete with turrets, and walls two feet thick, Reynolds was a delegate to the Sequoyah convention which attempted to bring I.T. into the union as a separate state.
Directions
Marker on west side of road on Highway 112 approxamatly 2 miles north from intersection of Highway 112 and King Street in Cameron, Oklahoma. Reynolds Castle on Court Street in Cameron, Oklahoma
Notes
National Register of Historic Places
Reynolds, James E., House ** (added 1977 - Building - #77001093)
Also known as Reynolds Castle
E of Cameron off OK 112, Cameron
Historic Significance: Person, Architecture/Engineering
Architect, builder, or engineer: Reynolds,James E.
Architectural Style: No Style Listed
Historic Person: Reynolds,James E.
Significant Year: 1890, 1911
Area of Significance: Agriculture, Architecture, Commerce
Period of Significance: 1875-1899, 1900-1924
Owner: Private
Historic Function: Domestic
Historic Sub-function: Single Dwelling
Current Function: Domestic
Current Sub-function: Single Dwelling
Links:

* GPS Coordinates from other source.