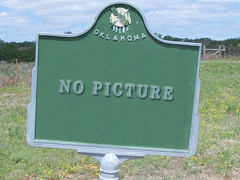 Deputy U.S. Marshal James Nakedhead
Deputy U.S. Marshal James Nakedhead
Cherokee Indian policeman
First town marshal Tahlequah, Indian Territory, 1890
Jail guard Muskogee, Indian Territory, 1993
Killed at Brush Hill Feb. 27, 1895 when he charged the hideout of Texas outlaws.
A brave and fearless officer who gave up his life in the line of duty --- Muskogee Phoenix, March 2, 1895
Oklahoma Historical Society, 228-1997
Directions
Located in Lake Eufaula State Park *
From I-40 Exit 259, south on Hwy 150 about 3 miles (Brush Hill, Oklahoma). Monument just past the park entrance sign.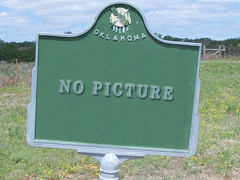 Notes
* Location from the Oklahoma Historical Society.
Links: