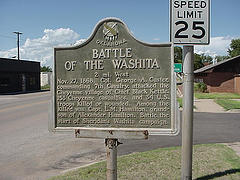 Battle of The Washita
2 mi. West

Nov. 27, 1868, Col. George A. Custer, commanding 7th Cavalry, attacked the Cheyenne village of Chief Black Kettle. 153 Cheyenne casualties, and 34 U.S. troops killed or wounded. Among the killed was Capt. L.M. Hamilton, grandson of Alexander Hamilton. Battle the start of Sheridan's Washita campaign.
Directions
Corner of L.L. Males (U.S. 283) and Clay. Next to Chamber of Commerce and Roger Mills County Courthouse. Cheyenne, Oklahoma.