Take a walk on the wild side in lawyer/gunfighter Temple Houston's hometown museum. Frontier-town vignettes feature Houston's office, a bank, saloon, jail, photo studio, and newspaper office. Native American exhibits feature the Cheyenne and Arapaho. Tour the picket-style Lee/Lienemann combination homesteader's cabin and horse stable. Murals by Paul Laune, Pat "Kemoha" Patterson, Fred Olds and Jana Sol. Tourist information center, gift shop and art gallery on site.
Pictures: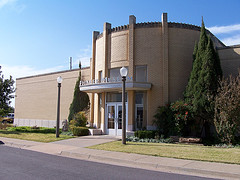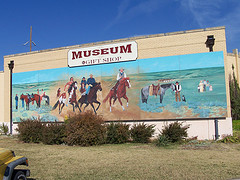 Directions:
2009 Williams Ave, Woodward, OK
Map:
36.426057N, 99.390821W
View with: Google Maps | Mapquest | Yahoo! Maps | Bing Maps | KML
Tags:
Part of Set:
More Information:
General Info: Credit Cards Accepted, Free Admission, Gift Shop, Handicap Accessible. Tour Group Services: Tour Bus Parking, Guided Tours.
Days/Hours Open: Tue-Sat 10am-5pm
More Pictures:
Links:
Entry last updated on 10/4/2010 4:07:09 PM by Kevin