Fort Cobb

Established Oct.1, 1859 by U.S. Troops under Major W.H. Emory as protection against raids of Plains Indians on Choctaws, Chickasaws, and on white emigrants moving west.
Evacuated May 5, 1861 by Union Troops and soon occupied by Confedrate forces under Colonel W.C. Young. Although sacked by hostile indians Oct. 23, 1862, held intermittently by Confederate commands until close of Civil War . Ruins rebuilt and regarrisoned by Federal units autumn 1868.
After Battle of Washita, Generals Philip Sheridan and George Custer moved command here Dec. 17, 1868. Chief Lone Wolf and Satanta held hostages until Kiowas submitted.
Mar. 12, 1869 Fort Cobb abandoned, troops moved to recently selected site which became Fort Sill.
Council between Five Nations and Plains Tribes here July 23, 1872

Oklahoma Historical Society 1960
Pictures: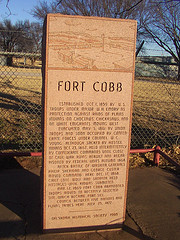 Directions:
From Anadarko, OK: U.S. 62 & OK 9, 15 miles W to Fort Cobb, Historical marker is on right side of road in town,in front of Fort Cobb Farmer Co-op
A granite marker is located south about 2 block on right side of OK 9. Fort Cobb, OK
Map:
35.09426N, 98.43601W
View with: Google Maps | Mapquest | Yahoo! Maps | Bing Maps | KML
Tags:
More Information:
More Pictures:
Fort Cobb
Site near here , East
Estabished by Oct 1, 1859 by 1st Cavalry. U.S.A. under Major Wm. H. Emory. Post evacuated by Federal troops. May 1861, and occupied by Confederate garrison 1862. Hq. for Gen. W.B. Hazen, special Indian Agent, 1868. Gen. Phil H. Sheridan based here Winter 1868-69. Fort Cobb abandoned by U. S. Army March 12,1969.
More Information:
National Register of Historic Place:
Fort Cobb Site
** (added 1973 - Site - #73001556)
1 mi. E of Fort Cobb, Fort Cobb
Historic Significance: Event
Area of Significance: Social History, Military, Politics/Government
Period of Significance: 1850-1874
Owner: Private
Historic Function: Defense
Historic Sub-function: Fortification
Current Function: Agriculture/Subsistence
Entry last updated on 2/20/2012 4:14:15 PM by Kevin