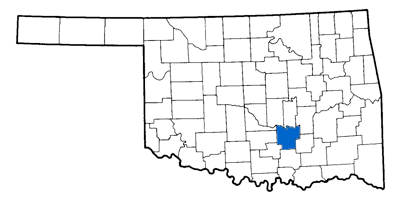 Pontotoc County
County Seat: Ada, Oklahoma 74820
Pontotoc County it took its name from a historic Chickasaw tribal area in Mississippi, which is also mirrored by a county name in that state.
On the old California Road. The California road, in 1849 - 1953, ascended the escarpment, about 3/4 mile east, known to travelers as " Delaware Mount." this "Mount" extends from several miles south of here, northeast to the Canadian River. At top of this plateau, travelers exclaimed on the fi ...
Occupied 1834 by Chief Black Dog's Osage band on buffalo hunt. Gen. Henry Leavenworth and First Dragoons, including officers Henry Dodge, S. W. Kearney, R. B. Mason, Jefferson Davis, Nathan Boone and noted artist, George Catlin, camped here June 26, 1834, on expedition west to secure peace ...