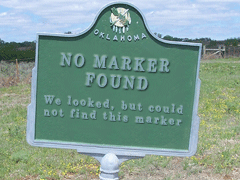 No Marker Found
It's not often we have to use the No Marker Found graphic, but it does happen. Some historic markers get lost to the elements, construction, or vandalism. Even though that marker may not exist anymore the history behind is still there. So we make sure we include these missing markers in our Historic Places Database. Who knows that marker may even show back up someday.
Historic Places With Missing Information
Historic places listed in this report do not have any information in either description or directions. Please feel free to use this list to help us fill in missing information.