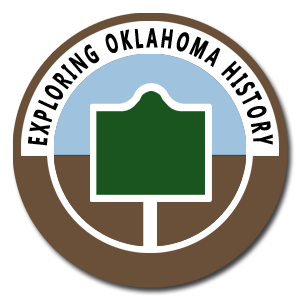 We're giving BlogOklahoma.us a major overhaul! As a tiny teaser of sorts, if you've been following on Twitter or Facebook you've already seen our new logo.
Now besides debuting a new look and improving things all over, we're rebranding. From now on we'll be "Exploring Oklahoma History" instead of "BlogOklahoma.us: Exploring Oklahoma History". Everything will remain the same as in our web address and social networks. The name "BlogOklahoma.us" is still a big part of our site, but by dropping the "BlogOklahoma.us" from the lead we hope it will end any brand confusion between us and our sister site, "Blog Oklahoma". Also it should improve our searchability.
We're also happy to announce we're teaming up with our good friend James at okghosttowns.us and adding a brand new Ghost Town Database to go along with our Historic Places Database. These will be septate databases since they'll be maintained by different people and have different content.
We're also adding a few other new features we hope you'll like, including new blogs, podcasts, and a brand new mobile site. We're even toying with the idea of brining back a forum.
Now we want to put your mind at ease. Everything you find on BlogOklahoma.us now will be at the new site. So you won't be losing any of your favorites.
We just started work on the new site, so it's going to be weeks before you'll see anything. Also we're building in a completely different location, so you won't see any changes here at the current BlogOklahoma.us.
Now is the time for your feedback. Is there something you would like to see rolled into our new site? Just click on the feedback tab you'll now find on the left side of the page and let us know. We've also set up a formspring.me space. Ask us anything from there if you want to.
Be sure to watch this Blog, Facebook, Twitter, and our brand new Tumblr blog for updates on the new site.