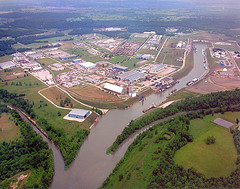 Did you know Oklahoma is home to one of the largest inland ports in the United States?
The
Port of Catoosa
is located on the Verdigris/Arkansas River just east of Tulsa, Oklahoma. The Port of Catoosa is the head of the
McClellan-Kerr Arkansas River Navigation System
, a water transportation system that connects Oklahoma with the might Mississippi River. The waterway travels 445 miles along the Verdigris River, the Arkansas River, the Arkansas Post Canal and the White River before joining the Mississippi at
Montgomery Point
. New Orleans is 600 miles south.
The Tulsa Port of Catoosa is also a 2,000 acre industrial park and multi-modal shipping complex. There are 50 companies located there, which employ over 2,500 people involved in manufacturing, distribution, and product processing from agricultural commodities to manufactured consumer goods.
More Information: